Hi all! I have a really great sentence building activity for you which will be great for your kiddos to learn their sight words but also correct sentence structure!
Included in this Sentence Scramble Workbook, is a collection of basic sentence building word card printables and a corresponding cut/paste and write worksheet for each set of sentences.
To download some FREE sample pages, click here. To purchase the complete packet, scroll to the end of this post for links to my online stores.
These are suitable for Kindergarten (Prep) and Grade 1 children and are awesome as an introduction to sentence writing.
The sentence scramble is an excellent activity to encourage children to combine words to practice correct sentence word order. The worksheets can be done as an entire class activity going through the tasks together step by step, as a small group task or individual work.
Simply print the word/picture cards and laminate for durability to reuse over and over. Cut along the dotted lines and arrange the word cards according to their number group shown in the top corner. Each card is numbered to display which words belong together to form a sentence.
The aim is for children to unscramble the words and build a sentence in the correct order. Following this task, each sentence has a corresponding cut, paste and write worksheet to complete. Children have the opportunity to cut, paste and handwrite the sentence in the space provided.
The use of the word cards with this is optional but it does have its benefits of children having that extra visual to practice sounding out and looking back to it when they need. There is a space provided on the worksheet for children to write the full sentence in handwriting. Encourage kiddos to sound out each word as they write and then to do a final read of the full sentence to enhance memory and reading skills.
Another way to optimize use of the word cards is to use them as flash reading cards. It is a fantastic tool for teaching sight words. By doing this, children can familiarize themselves with the words and will help them improve their vocabulary which in turn be of much benefit to use them in sentences.
These are perfect for your children to begin understanding how to form sentences. I am sure these will be very useful and will help with basic understanding of sentence structure.
Purchase the Autumn Sentence Scramble
If you would like to purchase this resource, click on either store link below.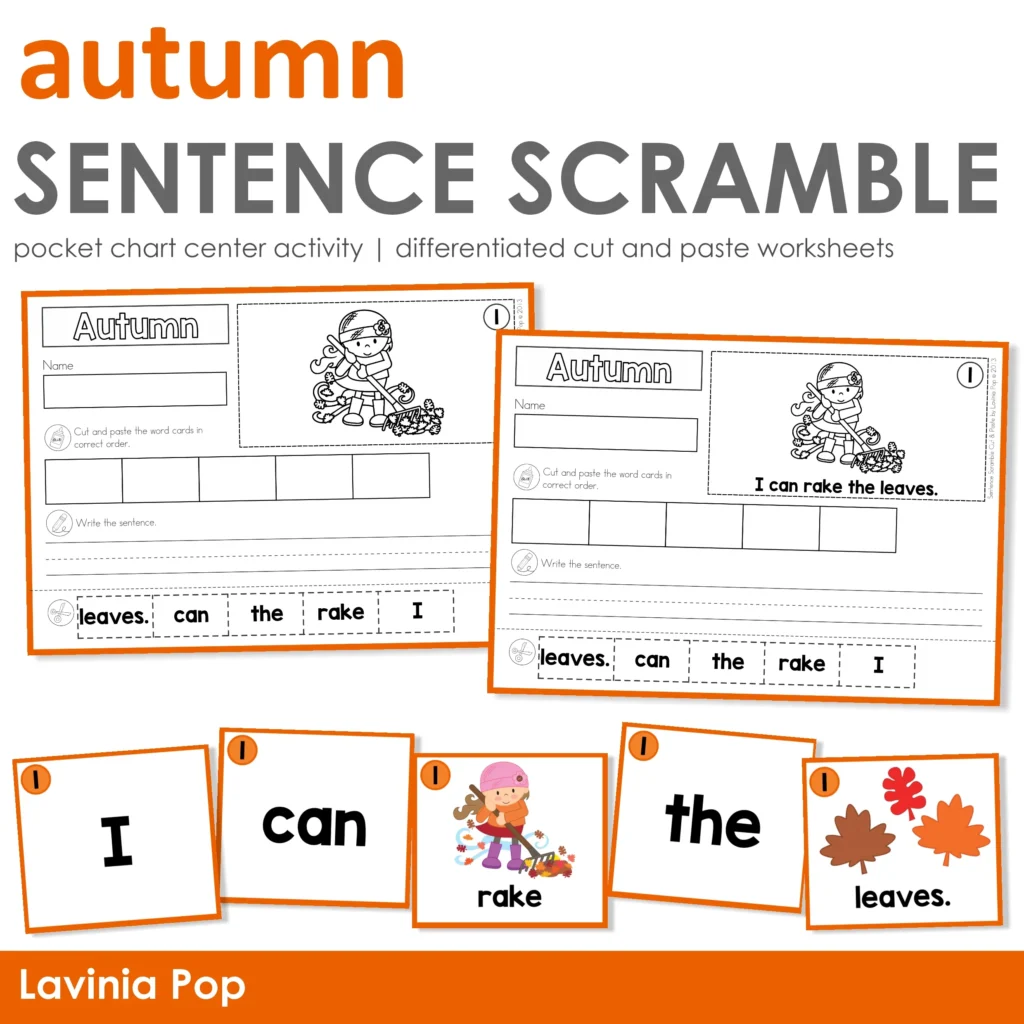 Happy teaching! 🙂