Preschool Letter U
(Throughout this Preschool Letter U post, click the hyperlinked words to take you to the complete unit in my TpT store/original resource link, or click on the pictures to get the freebies!)
Our hair gel and gel beads sensory bag from Letter T was a huge hit with my lil' learner, so we used it again this week.
Here is the completed Letter U on our play dough mats.
Next, Filip found all the upper and lower case U's from our Letter T Letter Find packet.
We then did a Letter U beginning sound page from our Beginning Sounds: Color It unit.
The only words Filip knew were umbrella and underwear… the other words were "unhappy", "uncle", "up" and "umbrella-bird". "Words with U are so hard to find!" he says… sigh…
Next, he practiced writing upper and lower case U using a whiteboard marker on our Write and Wipe cards.
Then we sorted some picture cards from our Sound Hound unit to show the sound position of the "U" in each word.
"Why are there no words that end with U?" he asked. Sigh again…
He then counted out 13 unifix cubes and made the pattern from our Number 13 Play Dough Mat.
Then, using the gel sensory bag, he made out the number 13.
We started Day 2 with a an upper and lower case U maze. Filip decided to use pink and purple stamps to make his way through the maze…
Then Filip practiced writing the Letter U and reading the CVC words on this worksheet from our Introducing the Alphabet packet.
We finished Day 2 with a fine motor Letter U printable from 1plus1plus1equals1. He LOVES these pages!
We did Day 3 during the setting of the afternoon sun, so we ask the you please excuse the glare from the right side and poor image quality 😉
Here he is, dotting at Dawn DeLorenzo's Gumball Dot It! Letter U activity page.
Next, Filip dotted his way through the  Number 13 maze.
Then completed a Number 13 worksheet.
We did a Letter U sound page, this time looking for the  "U" in the middle sound position. This is available in our Ending and Middle Sound Color It! Packet.
Then we read our "ED" word family flip-flip book.
And finished the week off with a letter U craft!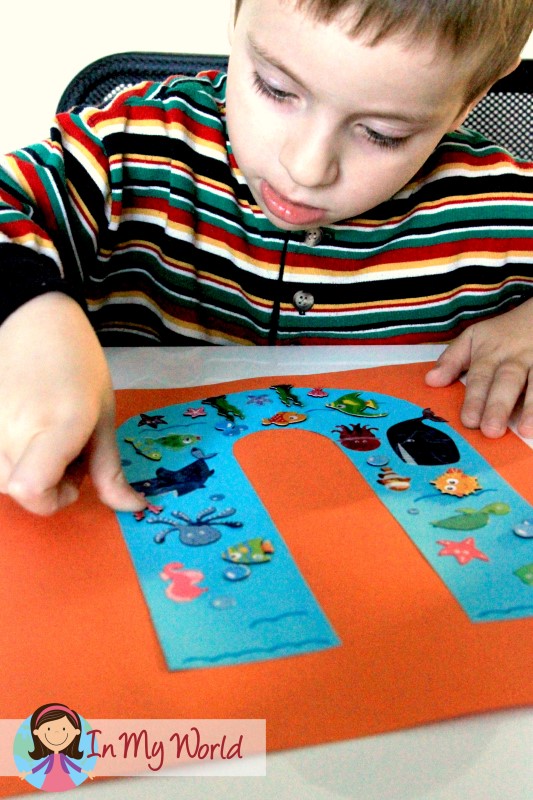 U for underwater and for umbrella.
And there you have it! Another Preschool Letter of the week all done!
Click here to download a pdf. with all the FREEBIES from this post.
(Please note: the freebie pack DOES NOT include freebies linked to my online store.)