It's our third week into our Preschool Letter of the Week and Filip is now quite familiar with the activities and worksheets we do. I like that he is able to do some of the activities independently, and I'm sure he likes that fact that I don't have to explain too much anymore 🙂 However, to ensure that he does not get bored, I will add new things every now and then.
We started with our beginning sounds basket for the letter C. I filled a basket with toys and other items that I found around the house.
We really emphasized the "c" (as in cat) sound at the beginning of each object. (To keep things simple, we are only learning initial letter sounds, so I didn't teach him the soft "c" as sound, as in city.)
Next, he finger traced the Letter C Alphabet Play Dough Mat. He knew straight away to look for the dot that indicates the starting place for writing the letter. 
Then he traced over the letter with white board markers.
He continued with an uppercase and lowercase letter recognition worksheet. He selected a couple of bingo markers/dabbers to "dot paint" the letters with, and he worked independently on this.
I showed him the pre-writing practice sheets (From the Pond) and was about to ask whether he wanted to use glue and glitter again this week, but before I got a chance to say anything, he took out his "smelly textas" (fruit-scented, in other words) and got to work right away.
Filip asked for some more school work and I had this printed out from a while ago, so I let him beautify it with some water colors. You can get a copy of it here!
We also did our Letter of the Week craft: clouds for the uppercase c using cotton balls and a crab with 2 googly eyes for the lowercase c. If you'd like a template for uppercase and lowercase c, you can get it here.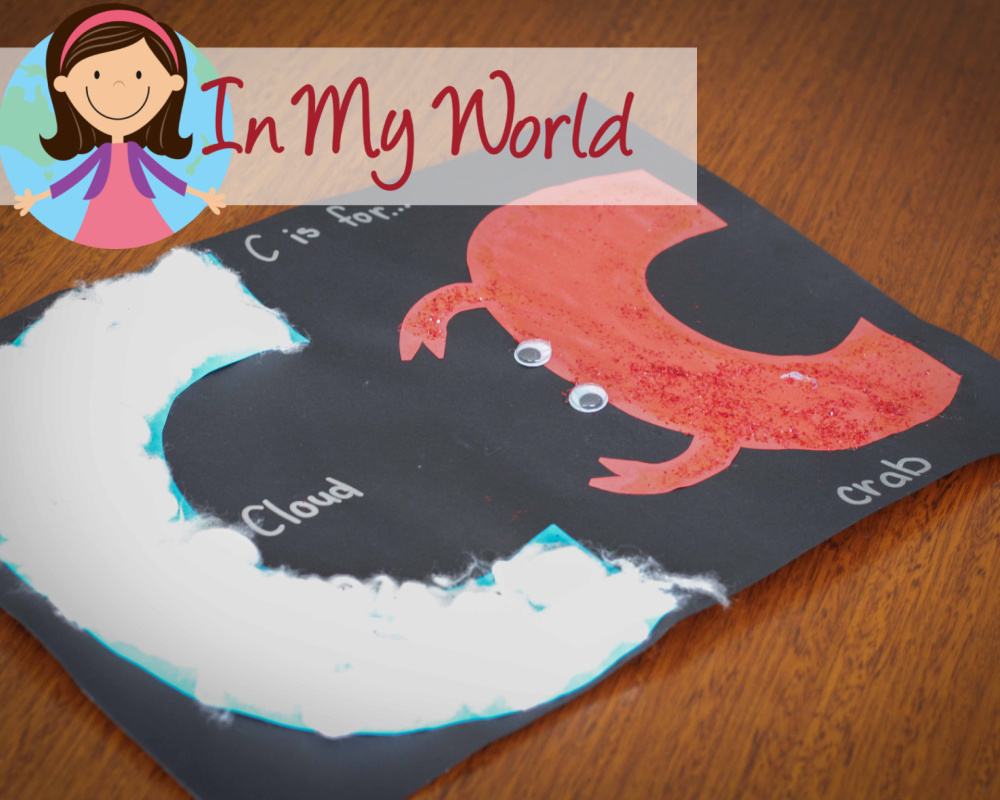 We started Day 2 with a new activity. I don't know the correct name for this activity, but we called it our "Pin Board". I wrote a letter c on the pin board, and then Filip pushed the pins in through the tiny holes to form the letter. I like this activity for him as it also works on fine motor skills.
We swapped out our vocabulary cards this week and used my Beginning Sounds Scoops. Download the sample from my TpT store here to get the picture scoops for Letters A, B, C, D and cut and paste worksheets for them.
Filip liked working with these more than the vocabulary cards we used previously… possibly because they are much prettier but also because sorting out 3 cards per letter sound is more manageable.
We also did a beginning sounds worksheet. He put stickers on the pictures that started with C, and stamped the rest.
And then it came time for the flip book. He LOVES making these booklets so much, he even colors the pictures! I think he's motivated to make them because he enjoys reading them to Sam after he comes home from work. Here he is, coloring away!
After it was assembled, we read it together a few times. Then he attempted to read it by himself and point to each word as he read. It was right here that I realised he needs to work on 1-to-1 correspondence… He pointed to every letter in the word "that!" Of course, we are not learning sight words, so I don't mind if he doesn't remember the words from the book: our focus is on letter sounds at this point in time. But I will definitely have to figure out a fun way to teach him to point to each WORD when he is reading!
He played the Alphabet Find It game with Cami this week.
Day 3 started with some more finger tracing. Instead of our usual finger tracing over the play dough mat, I decided to try something new: I put too much some hair gel in a zip-lock bag with a lot bit of food colouring, squished it around until the gel was evenly coloured, and then gave it to Filip to trace, using the play dough mat as guide under the zip-lock bag. His first words were: "Where's the dot?" Oopsy-daisy! It was then I realised I had put in too much gel and too much food colouring. If you decided to do this at home, start out with small amounts because it's easier to add in some more hair gel and food colouring if needed. Not so easy to take out though! Anyway, he had LOTS of fun with it once I smoothed the gel to one side to reveal the dot underneath 🙂
I had some free time during the week and I made up a set of Alphabet Counting Puzzle Mats. Here is the letter C puzzle:
Then he did an Alphabet Maze worksheet and actually followed the C-c-C-c pattern this time! Yay!
A beginning sounds cut and paste worksheet.
He did a Q-Tip Letter page, but this time I suggested he use these sticker gems instead of painting with a q-tip. Here is a photo of him carefully working away.
And here is his work for the week which he presented to Sam on Friday.