Sight Words and Word Families Week 1
Today is all about sight words and word families. But first, an apology and an explanation… I know I said I would blog about Filip's next step on his reading journey wayyy back at the start of the year. And I didn't. And that's bad. I know… I'm sorry. Just so you know, I felt really guilty about it. I mean, I had the photos all on my computer; all that I needed to do was edit them and write the posts. But, you see, I was really busy with life and creating resources for my Sunday School kiddos, and I just never found the time to blog. (You can see some of my Sunday School stuff here, although I do need to add to some new content there too – which I will… soonish!)
Anyhow, moving along…
I have a bit of an internal battle for quite a while; I couldn't decide whether to introduce sight words to Filip. I knew we only had a month or two before he would head off to school and there he would be introduced to the super rigorous phonics curriculum called LEM Phonics. I worried that teaching him to "memorize" sight words would confuse him and he would stop trying to sound out words. I mean, I didn't want to be the mum of the kids who would say "c…a..t…. kitten!" You know what I mean? So, that's why I was conflicted! But he kept asking to do more school work. So, I decided we would make it fun, and not focus too much on reading sight words by sight. I encouraged Filip to sound out the ones that could be decoded, and we just memorized the ones that we couldn't decode.
(Throughout this Sight Words and Word Families post, click the hyperlinked text to take you to the complete unit in my store or the original resource link, or click the photos to get the freebies!)
Week 1 sight words: a, and, I, see
Week 1 word family: at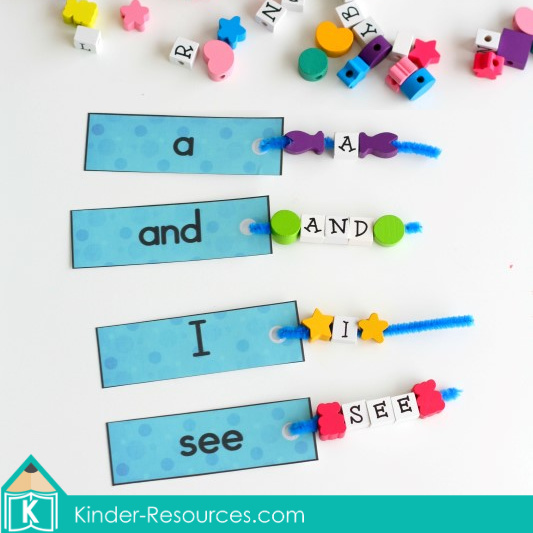 Here are some pictures I took during the week to show you some of the worksheets and activities that we did.
One of Filip's favorites was the sight words word find. This is a super easy activity that focuses on sight word recognition and requires no writing, so it is perfect for beginning readers. We grabbed our bingo dauber and dotted all the words. Here is what Filip did for "a".
Filip also did a Q-tip activity. This is another great activity for young learners who don't yet write as this activity also helps to develop fine motor skills in preparation for writing.
This cut and paste word work activity was also fun and Filip did well, but he did need me to help him with circling the correct spelling. We decided to cross out the wrong words to help him understand what is meant by correct spelling. As you can see from the "see" page, reversals are still a bit of an issue for my little man.
Each day, we hung up our work to dry, and then, at the end of the week I stuck the pages in a project book. (I will show you what that looks like in the next post.)
Because Filip is a kinesthetic leaner, we did some hands-on activities too. This sight word building activity was super fun and helped to further develop his pincer grasp, as he threaded the beads onto the pipe cleaners.
On another day, we did a different type of word building activity. Filip was confused about what he was supposed to do with the cubes and the blank piece of paper, so I wrote the letters on each cube and he knew what to do from there on 😉
Filip has developed a real love for reading (as one would have hoped by now), so we read this little book on most days. These fluency flip books are ideal if you're looking to save on paper!
We also read a page like the one below each day. I asked Filip to first identify the focus sight word and dab it, and then he read each sentence out loud. Between you and I, I will admit that I love these fluency reading pages to bits as they incorporate both sight words and CVC words! That means your kiddos don't have to try and guess unknown words, but can sound them out.
We also did some word family activities. I'll begin with Filip's favorite: the -at word family word building mat. We used our rubber stamps that I had purchased from OfficeWorks quite a while back to build each word as he sounded it out.
He also did an -at word family picture scramble activity. Now, this particular activity comes in booklet style, but I decided to simplify it and asked Filip to glue the strips onto some paper.
We also read an -at word family booklet together and then, on the last page, Filip wrote the beginning sound for each -at word. This booklet comes with a comprehension page, which I helped Filip complete. (I'm sorry, but I didn't get a photo of the comprehension page.)
And there you have it folks! Week 1 all done!
To view the resources in this post and other great priced and free resources, click on either of the images below.