Preschool Letter O! We have had some time off from doing school work, but we are full swing back into it for the last term of school in Australia. Get ready to receive a blog post of sticker fun over-load! 😉
As we have done previously, we started Day 1 with the play dough mat for the letter O.
(Throughout this post, click on the word links to take you to the complete unit in my TpT store, or the pictures to get the freebies!)
We then continued with the Letter O Sound Hound Game. Much to Filip's dismay, he discovered that there were no words that ended with the "O" sound. He insisted I should have made some for him, even after I explained that there aren't any words that end with the short o sound…
Moving on!
We continued with the Letter O Beginning Sounds Colour It! page. Here is a photo of him pointing to the hand and sounding it out… I looks like he's saying "five" 😉
Then we looked for upper and lower case O's using our Letter Find page. This did not work very well as my little man had trouble recognising the difference between the two cases, and he ended up dotting them all with an orange bingo dabber.
We finished the Letter part of the day with a writing page from The Measured Mom.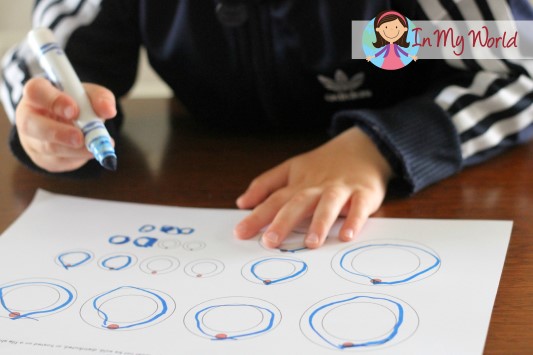 We moved right along and brought out our Number 7 Play Dough Mat.
We finished our first day of structured table-work with a number seven matching page.
To start off Day 2, we used the pages without borders from our Alphabet Play Dough Mats and stuck some stickers on each letter.
Fillip then did a Letter O Maze:
Now that he "knows how to read", Filip read the sentence strips from Mariela Santillana's cut and paste letter O page and glued the pictures accordingly. Well, to be honest, he sounded out the first 2 letters of each word and guessed what it was. A great effort, in my opinion 🙂
I then helped him do a pre-writing practice page created by Mel at From the Pond. 
As with the Letter O play dough mat, we stuck stickers all over the number 7 mat too. It's always great to get in some fine motor practice!
We then did a number 7 maze…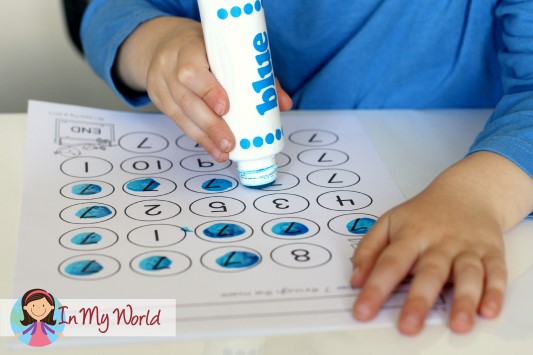 And a number 7 concepts page…
… and finished the day with a number 7 flip book…
We started Day 3 with a Q-Tip printable from 1plus1plus1equals1. And, of course, Filip stuck on some stickers.
Filip also made a foldable Letter O booklet. Here he is, writing his name (awesome i's, right?!), tracing upper and lower case o, colouring the beginning sound pictures and dotting upper and lower case o.
We also made an "-op" word family flip-flap booklet. My little man LOVES this booklet and reads it over, and over, and over, and over to me… And then, he reads it over, and over, and over, and over to the other family members and any unsuspecting guest that dares enter our house on the day or the day after that we complete this booklet. Yep, he LOVES his little book!
We finished our Preschool Letter O with an alphabet craft…
"O" for "Owl" (I know, I know… why didn't I pick a short o craft… I don't know what I was thinking!!) and "o" for "octopus".
To get all the freebies from this post in one pdf, click on the image below.
How about a GIVEAWAY to end the day? For your chance to win an Alphabet AND Number play dough mat set, please leave a comment below telling me your favourite method for teaching children to write the ABCs!