Looking for fun and engaging activities for your toddler or pre-schooler? Well, you've come to the right place. I will be sharing the activities that will be included in my learning folder \ toddler binder resources which are available to download individually or as a growing bundle deal.
What I love about learning folders is that you are able to bring it along with you wherever you go. It's a great quite time activity and also a great time filler during the day when you don't feel like doing much else or its perfect for taking along on car rides, to restaurants and doctor appointments.
Learning Folder Alphabet & Number Match
First up, we have the alphabet and number match activity. This is a great activity for working on visual discrimination, alphabet and number order, beginning sounds and counting.
Some ideas of how you might use this activity:
Matching
Teach letter sounds by pointing to each letter and saying the sound it makes. Have your child repeat.
Teach your child to associate each number with counting by saying the number, then counting on fingers.
Teach alphabet and number order: place the colored blocks down one by one and sing an alphabet/counting song.
Finding items around the house that begin with the letter sounds
Learning Folder Patterns Match
Next up, we have pattern matching. This activity includes 24 patterned squared and 24 circle cut-outs. This is a simple activity with great cognitive benefits. Matching is the simplest form of finding patterns which is an important part of learning to organize information.
Learning Folder Dress for the Weather: Bears
Who doesn't love cute little bears and dressing them up. The aim of this activity is to dress the bear according to the weather and different temperatures.
Some ideas for how to use this activity:
Place a weather icon in the empty square and ask your child to dress the bear for the weather.
Dress the bear for the weather and ask your child to find a matching weather icon.
Place a weather icon in the square and randomly dress the bear. Ask your child if the bear is dressed appropriately. Ask your child to swap out inappropriate clothing and replace it with the correct clothing.
Learning Folder Crayon Color Match
Every learning binder needs a color matching activity. Here I have used real pencils along with the pencil cut outs to match according to the color. You could use any objects or toys you have around around the house to extend on this activity and ask your child to match them according to the color.
Learning Folder Shape Match
The aim of this activity is to match the shape to their shape outline. You could also discuss the different properties of the shapes, naming each shape and how many sides they have. Another great use for this activity is to use some beads or buttons you have around the house to use on the outline of the shape for a fun fine motor activity.
Learning Folder Shoelace Tying
Next up, we have the shoelace tying. The aim of this activity is to help children practice tying their shoes. You could also do some threading practice with the cut-out shoes, in addition you could teach children left and right foot.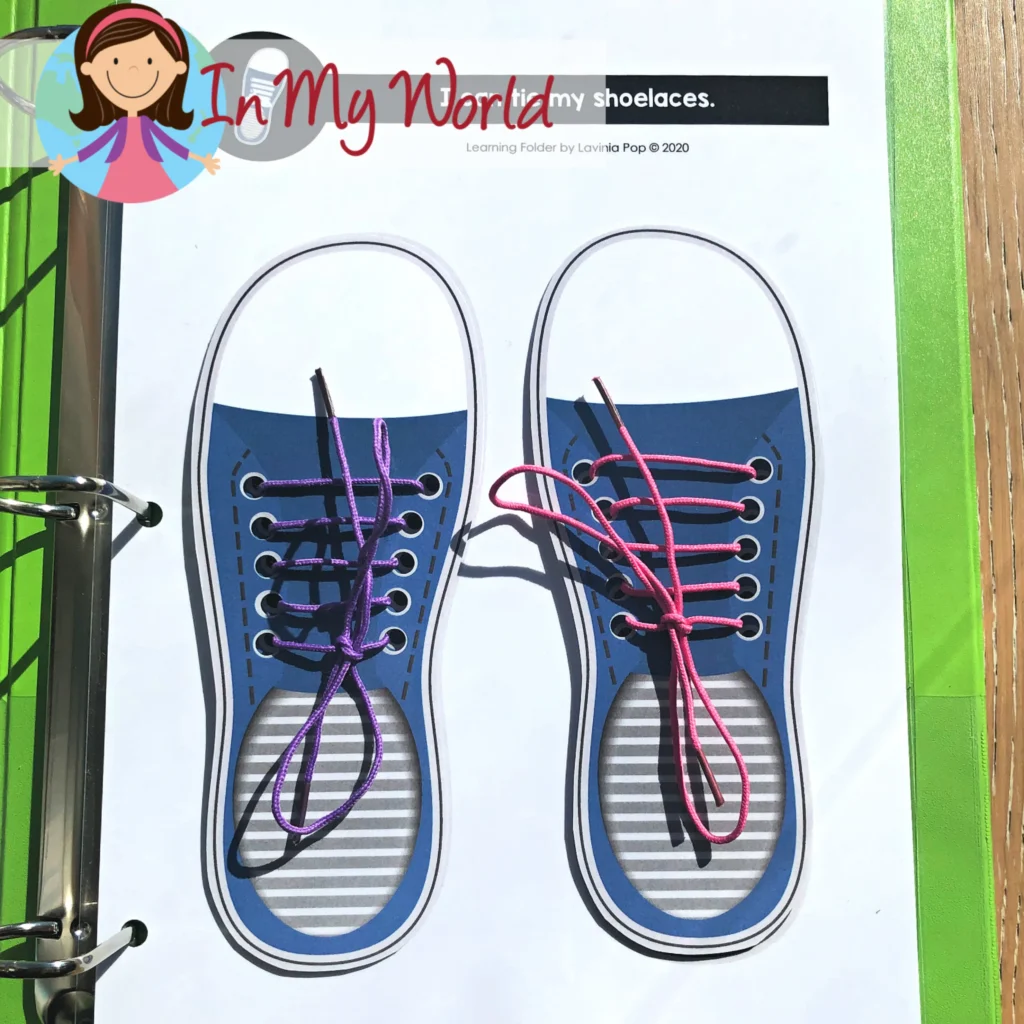 Learning Folder Phone Number
This activity is for children to practice their phone number by placing the number tiles in order at the top of the page and then dialing it on the number pad. This is also a great way to help children memorize important phone numbers such as mums and dads in case of any emergencies.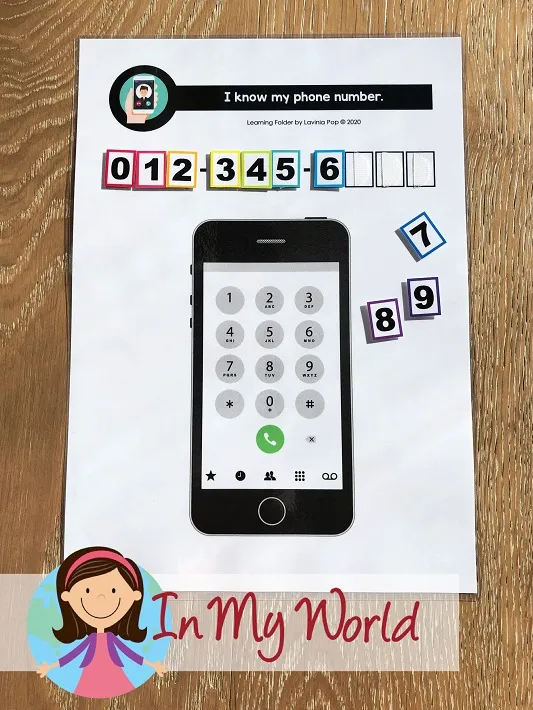 Morning, Afternoon and Night Routines
Included in the learning folder is this great editable home routine for use with your pre-schooler, with 80 editable cards for self-care, jobs/chores and activities. There are also 3 routine mats for morning, afternoon and evening. Routines help children learn to take responsibility for their daily activities, build confidence, cooperation and a sense of accomplishment as young kids participate in creating and keeping a schedule.
Learning Folder Number Match
The aim of this activity is for children to count the number of fingers on each hand and match the numeral to the correct hand. Two skin tones are included in this packet. I've extended this activity by getting some manipulatives like bottle cap lids and beads. I placed a bottle cap according to each number of fingers and then as a fine motor addition you have to place a bead in each bottle cap to represent the amount of each finger. Another example you could do is use some buttons and place the number of button under each finger.
Learning Folder Matching Emotions
Children match the emojis to the correct expressions. The emotions included in this packet are: happy, sad, angry, tired, scared, confused, disgusted, silly, surprised, shy, worried and sick. Several skin tones and eye colors have also been included. This activity is a great way for children to learn about their feelings and learn how to recognize emotions in pictures.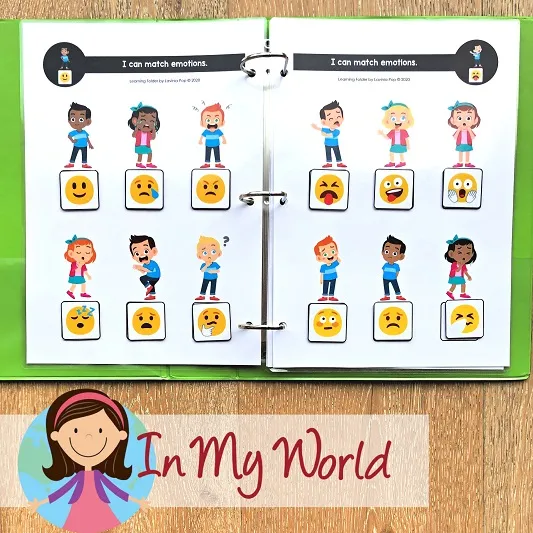 If you'd like to take advantage of the Learning Folder | Toddler Binder growing bundle deal, click here or on the image below. Please note that at the time of this blog post, this packet is a GROWING BUNDLE and not yet complete! It will soon include the activities presented here and many more!