And here we are: Preschool Letter F; almost one quarter of the way into the alphabet and we are loving every bit of it!
We skipped our beginning sounds basket again and started with our Alphabet Play Dough Mat. I'm loving the fact that Filip has already grasped the concept that letter formation starts from the top and heads downward and that we go from left to right. Practice really does make perfect and, after seeing these results with my little man, I honestly wish I had done this with my older kids too.
Next, I lined up a few of our vocabulary cards face down and Filip turned them over one by one. I covered the word at the top with my hand and asked him to say the word for me and identify the beginning sound. He then matched magnetic letters to each card.
After that, he did an uppercase and lowercase letter identification activity using dot-paints.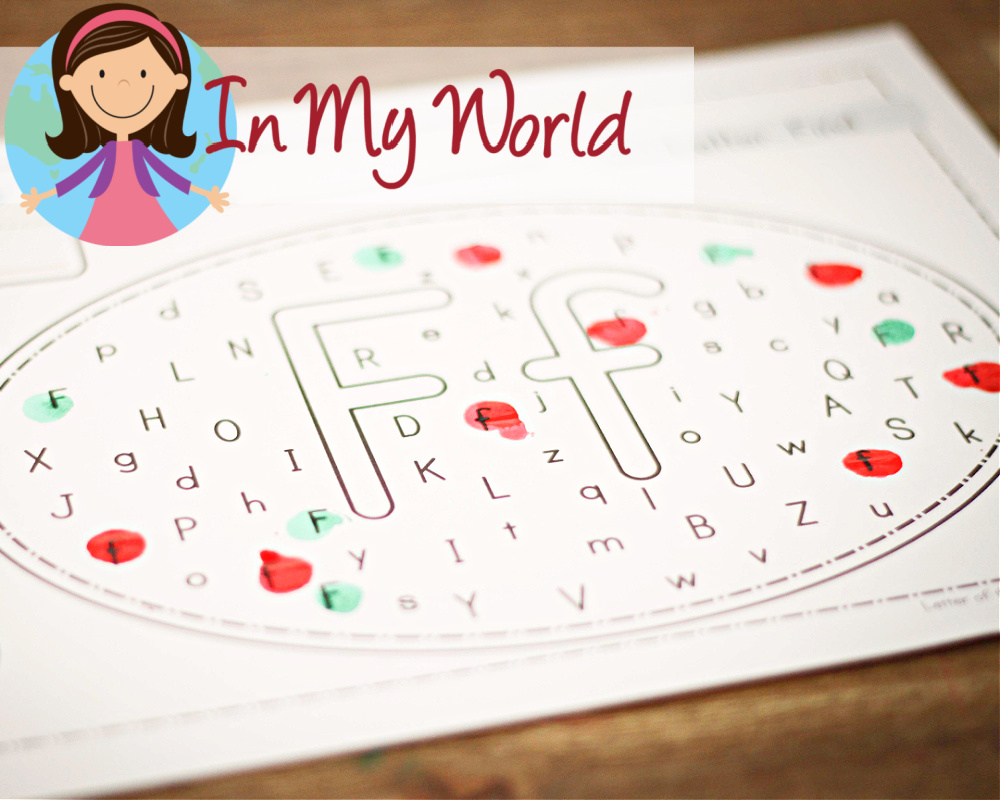 Then we did a pre-writing practice sheet (From the Pond) using glue and glitter. You can tell which parts he did and where I helped him 😀
Then we did our Preschool Letter of the Week craft. F=fish…
f=flower…
And the end result:
He asked for the Alphabet Find It game this week, mostly to do this:
He loves squishing the contents of the sensory bin (a mixture of beans, lentils, barley, corn and some others I'm not quite sure about).
And here we are, playing the game together.
Day 2 started with a beginning sounds worksheet. We love these worksheets as they are visually appealing (huge thanks to my clipart suppliers!!) and age-appropriate. Filip sometimes has a hard time figuring out what each object is, but repetition is the key and seeing those same pictures again on vocabulary cards and other worksheets and booklets that we do has helped him to remember the new words and expand his vocabulary.
He also did a Letter Maze page and he got an idea of a funky way to dot the uppercase letters in one colour and lowercase letters in a different colour… Look below. It was an epic fail as he ended up confusing the colors 🙂
We continued with our capital letter tracing sheets from The Measured Mom.
… Our Preschool Letter of the Week F Puzzle.
And then we did a craft. Since F is for flowers, we decided to do a flower handprint painting activity. We started by painting his little hand with green paint; here he is "cheesing" for the camera…
Step 2:
Which looks like this:
And then he used a round sponge to make yellow circles and the differently coloured petals.
Since he loves messy play so much, I decided to also do a shaving cream activity with him. All you need is a bit of shaving cream mixed to a teeny tiny amount of food coloring. Be aware: if you put more than a teeny tiny amount of color, you'll end up with a blue (or red, or pink, or purple, or whatever colour you used) little person. And, if you want to be on the safe side, just skip the coloring part all together. But adding the color is FUN! In fact, as we were mixing the two "ingredients", Filip said to me, "When I grow up, I'm going to be a scientist and I'm going to do this all the time". Sure thing, buddy! Anyhow, this is what the activity was intended for:
He started out right…
But then took the plunge…
…Which turned into happy, messy fun… SO glad I didn't add too much food coloring!
Day 3 started out with an exciting achievement for both Filip and I: he wrote his name for the FIRST TIME! I was so proud of my little man and had to snap a picture of him!
This is the tracing part from our Letter Activity Mini Book:
Circling the pictures that begin with F…
And identifying "big f" and "little f"…
Then he used some glitter glue to complete the Q-Tip Letter F page.
Then we made our Alphabet Letter F Flip Book. Here he is cutting the "flips":
And reading the completed flip book.
I show a lot of photos of his little hands at work, but this is what his little face looks like when he reads what he calls "my special books". Yep, he loves his books!
We also did a Letter F Pattern Block page by Confessions of a Homeschooler.
And here is the board we had on display, ready to show Sam after he came home from work on Friday.