We started letter Bb with with our Alphabet Play Dough Mats, which Filip absolutely loves. We finger traced a couple of times as he had trouble forming the lowercase b, and then he used some different colored whiteboard markers to trace each letter. He has a fascination with the whiteboard eraser and loves to "wipe off" his writing with it. Here are a couple of photos of him with the play dough mat.
We added a new activity this week – a Bb basket! I filled a basket with some items that begin with the letter B and then we named each of the items, really emphasizing on the initial b sound. Here is what the basket looked like; just some toys and things I found around the house.
Next, we did an uppercase and lowercase letter recognition worksheet, which he decided to paint.
We did a pre-writing practice sheet (From the Pond). They are just the thing to help get those little finger muscles ready for writing. So, I suggested we used glue and glitter this week instead of markers. His reaction? Take a look!
He LOVED it!! Even though it was hard to squeeze out all that glue and follow the lines, he was very happy with how his picture turned out!
I set up the mini sensory tub using an Alphabet Find It game by Carisa, but Filip was not keen on digging around to find the letters by himself, so I played with him 🙂
We finished off the day with our Letter Bb craft: he had been waiting all day for this as he really likes to cut and paste and make things "come to life" from bits and pieces of paper. The template for the letters is available here, if you'd like to use it. Here is carefully applying the glue in a straight line…
And the finished project!
We started the following day by doing a beginning sounds sorting activity using the Letter A vocabulary cards and the letter B vocabulary cards (available in this Phonics Letter of the Week unit). Once again, we really over-emphasized the beginning sound so that he could really hear the "a" or the "b". While this is not something he has mastered yet nor can he independently sort the vocabulary cards, he understands that we are listening for the beginning sound and, at this point in time, I'm really happy that he has grasped that concept!
We did some more Beginning Sounds Worksheets, this time using Dot Paints. I've mentioned it before: this little man is NOT fond of coloring in. However, I don't want that to stop us from doing things, so we improvise where we can 😀
We used the tracing printables from The Measured Mom. He enjoyed using the different colored fruit smelling markers and told me the letters down the bottom were too small for his markers…
Filip loves to read – well, pretend read. His older brothers and sister are reading and he often grabs a booklet from his blue tub and asks me to read with him. (I love Reading A-Z and have used their booklets and accompanying worksheets for my kids during school holidays.) While I am not going to teach him any sight words, at least, not right now, I decided to try out the flip book from my Phonics Letter of the Week – Bb unit. I'm so glad I did: he loved the idea of his very own booklet that he even colored in some of the pictures!
I have been often asked how these booklets are assembled: they are quite simple to make, actually! Just cut out the top and bottom rectangles, then cut the bottom rectangle along the dashed lines. The top is left intact as it forms the base for the flip book. Once colored, the "flip pages" are stacked one on top of the other and secured together with a couple of staples. It should look like this:
We also did a balloon tissue paper scrunch craft to get those little finger muscles working. The template for the balloon is available here.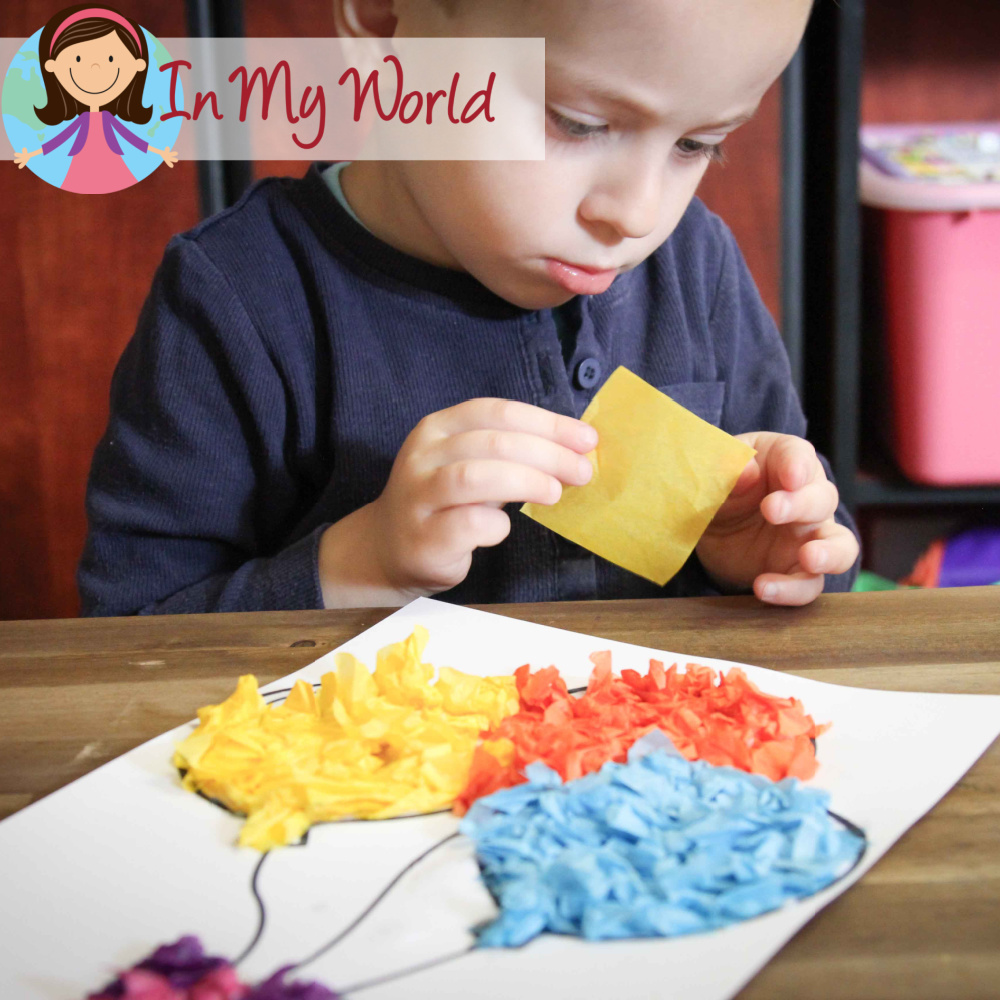 Our final day for the letter Bb we started with a sensory activity. Since B is for balloon, we filled up some balloons with different things: rice, beans, sugar (we didn't have sand), flour and hair gel.  We played for quite a while with them, talking about how they feel and comparing one balloon to another. When the kids came home from school, Filip told them about our little sensory play and they all got into it, feeling each balloon and trying to guess what was inside. Then, of course, my boys decided to have a balloon fight and I had to take them away before they popped! Here is a pic of Filip.
He also did a Bb maze, using stamps to get from one side to the other. He still goes in random order, but that's OK!
We also did a beginning sounds worksheet (available in my Phonics Letter of the Week Bb unit).
He also did a Q-Tip Letter b.
Then we finished with a counting activity. This was way fun for him!
And here is his work for the week. He loves when Friday comes around and all his work is displayed so that he can show Sam what he has done.