I decided to try something new for our Preschool Letter H. Instead of a beginning sounds basket, I used some of our beginning H vocabulary cards and covered the words at the top with play dough.
Filip's job was to say the name of each picture and figure out the beginning sound.
He then took the play dough off and checked to see whether he got the beginning sound right. He made a remarkable discovery that all the pictures started with the H sound 🙂
We took out our H Alphabet Play Dough Mat and Filip started by finger-tracing the letter to learn the path of motion for letter formation.
Then he used some play dough to form the letter.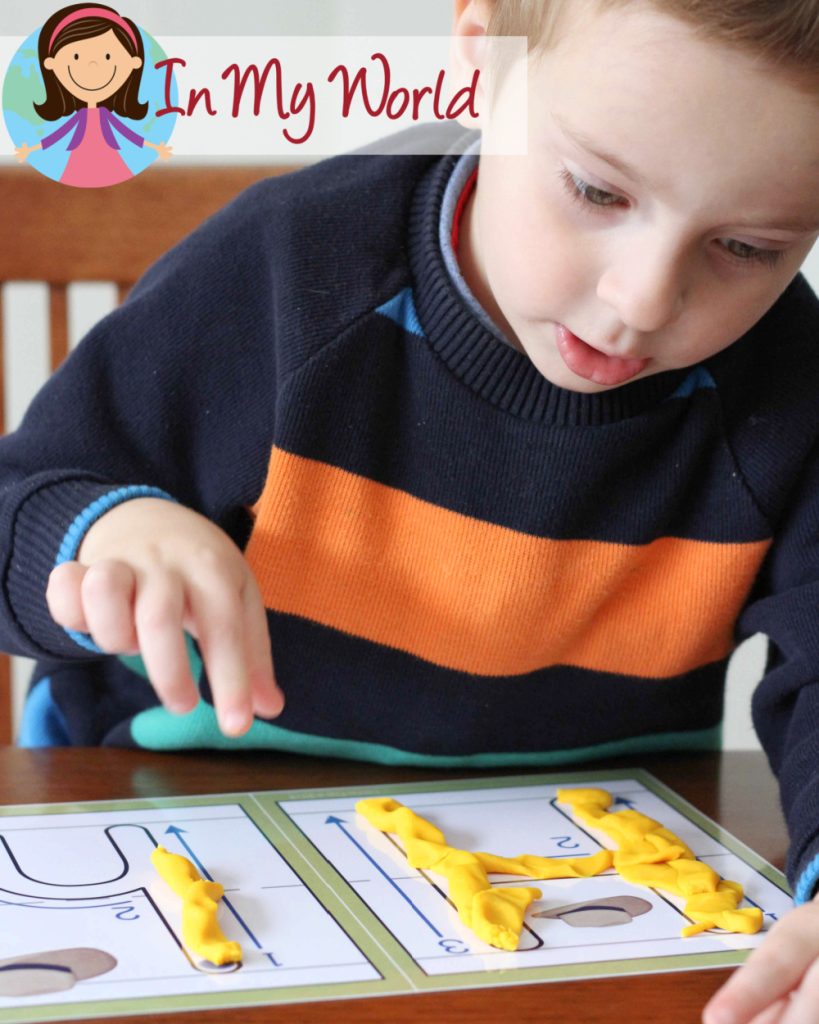 We got out our dot paints and Filip did a Letter Find worksheet. This is always a favorite and he is super thorough, checking each letter before stating, "Finished! Can you see any other ones?"
We continue to enjoy our lowercase letter formation practice sheets from The Measured Mom.
We recently came across this fun worksheet from Mariela Santillana (check it out here) and HAD to have it; my little man loves cutting and pasting and this was perfect for him!
Then we read our letter h CVC word slider cards.This is by far his favorite "game". Here he was sounding out, "H…a…m…" and then peeked inside the envelope to see the picture and happily announced, "Turkey! H-a-m – turkey!" This is why peeking is not allowed!!
Letter H CVC picture puzzles. We attached magnets to the back of these so that they are easier for Filip to arrange.
Then we moved on to our CVC word building activity. I placed the letter tiles in 3 columns (beginning, middle and ending sounds) to make it easier for him to find the sounds. Just letting you know that Filip does not do this activity independently; I say the word for each picture,emphasizing each sounds. Filip then identifies the sound heard, finds the letter tile and places it in the correct spot.
We started Day 2 by tracing over our letter H playdough mats with a white board marker.
We used our pin board to make the letter H. (If you're from Australia and are keen to get a push pin set (also called Mosaic Pins), they are available at K'Mart. ) I wrote the letter H on the board…
…and Filip pushed the pins in being careful to follow the letter formation he learned from the playdough mat.
Happy little boy!
Here is a pre-writing practice page by From the Pond.
Our Preschool Letter H Number Puzzle.
We read our word slider cards again. Here's a little "trick" I discovered: put all the word slider cards inside the envelope before beginning. That way, you don't have to keep swapping them over 🙂
We started Day 3 by revising beginning sounds E, F, G and H using our beginning sounds scoops.
And did the follow up cut and paste activity. Can you tell which pictures I colored? 🙂
Filip used some glitter pens to do And then a Q-Tip Letter H page from 1plus1plus1equals1.
He then did a CVC cut and paste worksheet. Here he is tracing the words, sounding out each letter as he goes:
We finished our Preschool Letter H with a craft.
H is for house and H is for horse. As you can probably tell, neither of us are fantastic artists, but we sure enjoy our "school time" together!
I'd like to finish with a GIVEAWAY for my Alphabet Beginning Sounds Scoops to 5 lucky people!!
To enter, leave a comment and a contact e-mail! I will announce the winners on Facebook and directly to the e-mail specified!
(GIVEAWAY NOW CLOSED)