Welcome to our Preschool Letter P post!
As we have done previously, Filip started by finger tracing the letter P play dough mat and then used whiteboard markers to trace the upper and lower case letters.
(Throughout this Preschool Letter P post, click on the word links to take you to the complete unit in my TpT store, or the pictures to get the freebies!)
We thought we would get a bit creative this week and used some coloured spiral pasta to form the letter P. (I got my directions for dying pasta from WikiHow and Happy Hooligans.)
Filip then did an upper and lower case letter identification page from  Dawn DeLorenzo's Gumball Dot It! Letter P activity unit.
We then moved right along to practice handwriting on a smaller scale. This week, we decided to use the write and wipe letter P cards from my Alphabet Write and Wipe packet. They were a big hit with my little man! No more frustrations if he got out of the lines; we just wiped it off and started again! Oh why didn't I use these from the start?
Next, we did a Beginning Sounds page using come super cute letter erasers. Filip sounded out each word, located the corresponding letter and placed it on top of the picture. He REALLY enjoyed using the letters for this activity!
We got our alphabet erasers from Office Works (Australia). Check out the end result below!
We also played our Sound Hound Game, listening to the P sound in each word and placing it under the correct doggie section.
And then, we moved on to our Number of the Week 8 Play dough mat. We used these coloured lego-type erasers to form the number 8.
And here's the end result – he even made an AB pattern with the ten frame. If you'd like to get yourself some of these funky erasers, I got mine from Office Works (Australia).
We finished the day with our Preschool Cut and Paste Number page.
We started Day 2 with our CVC word slider cards. Filip can now sound and blend single words really well. I'm hoping to introduce him to simple sentences by the time we reach letter T, but we will see how we go!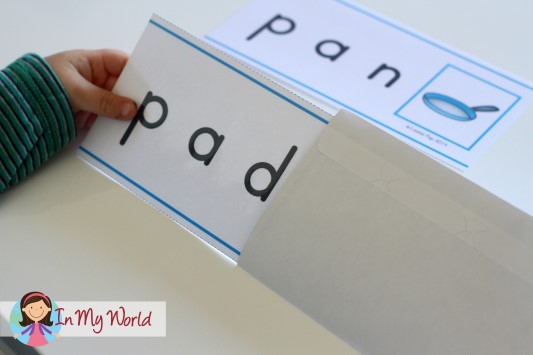 We then put some CVC Puzzles together…
And build some CVC Words using our CVC Phoneme Segmentation Cards.
Here he is checking to make sure that the letters are all in the correct spot.
Next, we brought out a new worksheet from my Introducing the Alphabet unit. Filip spotted the CVC words and jumped right into sounding out the letters and reading them… Yay for eagerness to read 😉
He then finger-traced the letter at the top…
And then traced upper and lower case p: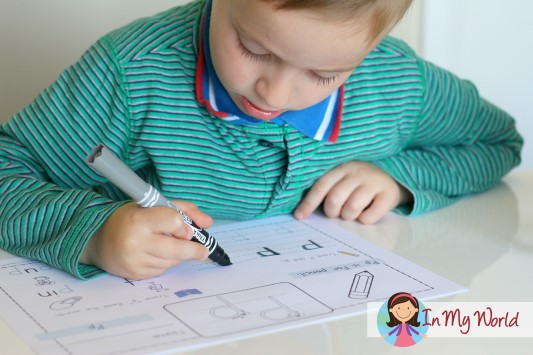 We moved on to the Number section of our day and Filip dotted his way through the number 8 maze.
And then completed the number 8 page from my Number Concepts unit.
On Day 3, we started with our CVC Word Work page.
Filip then matched the pictures to the CVC words to build our -IP Word Family Flip-Flap book.
We also did a Number 8 Flip Book, counting and stamping each picture…
And then reading the booklet… he put a stamp at the bottom of each word to help with 1-1 correspondence!
We finished off our week with a P craft!
"P" is for pig and "p" is for piano.
Click on the image below to download a pdf. with all the FREEBIES from this post. (Please note: this freebie pack DOES NOT include freebies linked to my online store.)
If you're from the US or Canada or another country and have stumbled across erasers similar to what we have used in this post, I'd LOVE for you to let me know where you got them from!