Hello again! This week I will be sharing 5 sight word activities and 5 word family activities. They are are super fun and will keep your kiddos engaged. Hopefully. I have included sample pages of each activity so you can try them out with your kiddos. If you like them and find them useful, I have also included links to the products in my store so that you can purchase them. At the very end of this post, I have included some fun FREEBIES just for you!
Week 4 sight words: at, down, go, up
Week 4 word family: AP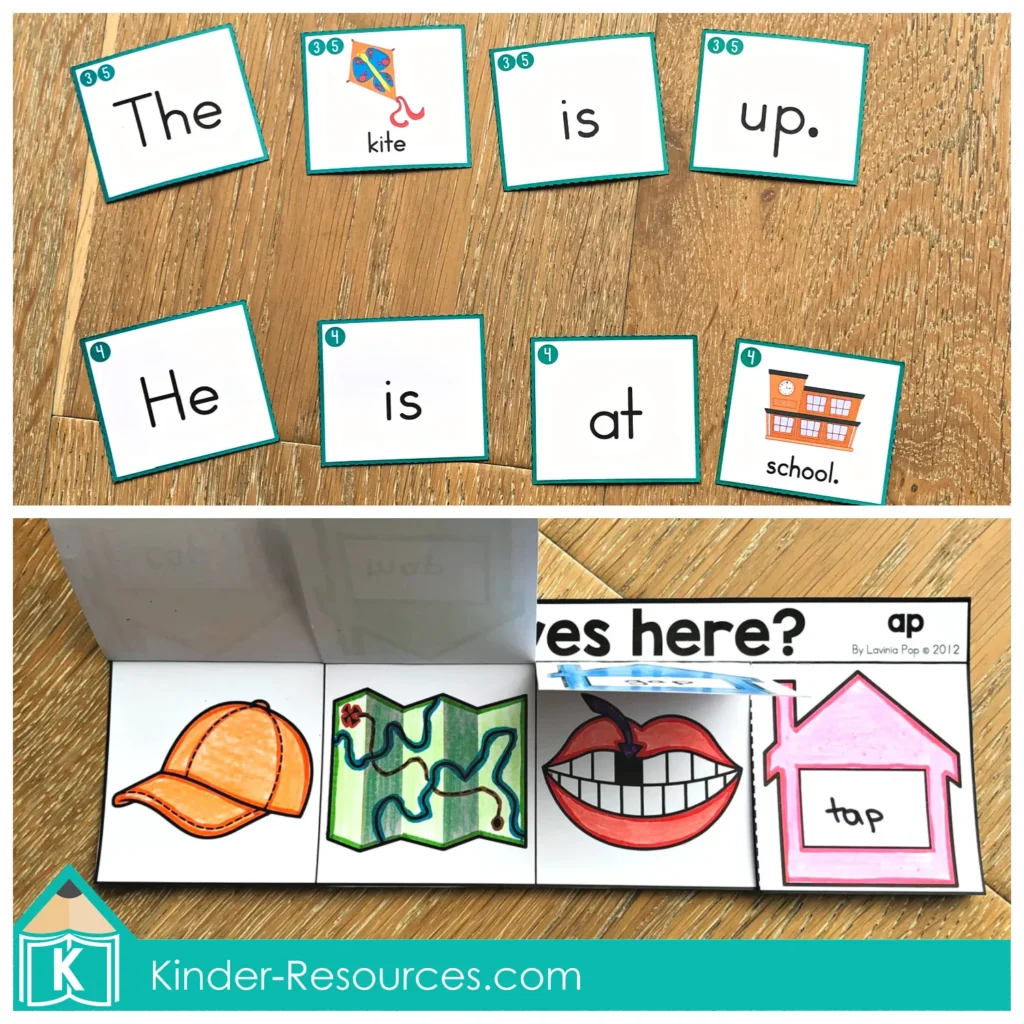 Click the image above to download the sample word wall pages or HERE to purchase the complete packet from my store. All the word family activities in this post are included in my AP Word Family packet that can be viewed HERE in my store.
Let's start with the sight word activities. I will begin with what I think is the most beneficial activity. You can use this activity for reading, writing and learning sentence structure. I have included cards that you can use in a pocket chart center. Kiddos are required to organize the cards to make a sentence. I have also included a black and white version of all the sentences; children cut out the cards and arrange them to make a sentence that makes sense.
I have also included answer cards that you can keep together with a key ring. You can use the answer cards first as reading cards, then once your kiddos are more confident with sentence structure, use them as intended for this activity. I know I have too many photos for this activity but, guys, I just love it and I know you will too. If you like the look of the sample pages, click HERE to purchase Sight Words Build a Sentence packet.
Next activity. Sight Word Play Dough Mats. You can have your kiddos use them as intended with play dough, or with dry-erase markers. Click HERE if you'd like to purchase the Sight Word Play Dough Mats.
Up next are some sight word q-tip cards. Only I didn't use a q-tip and paint; I used some glue and glitter. They look pretty cute, wouldn't you agree? And you're still working on fine motor skills 😉 Click HERE if you'd like to purchase the Sight Word Q-Tip cards.
Next up is the Read and Trace Reader. Kiddos make a booklet that they can read independently due to the predictable text and images that support the text. They also trace the focus word on each page. Simple and fun. You can purchase the Sight Word Read and Trace Readers HERE.
The last sight word activity for today is the Sight Word Handwriting Book. This book contains 2 tracing options – one with dotted lines and one with a continuous grey line. You do you and print the version you like best. You can also laminate these pages or put them into a clear pocket in order for your kiddos to practice the same word multiple times. The Sight Words Handwriting Book can be purchased HERE.
Let's move along to word families! I'll begin with the Real and Nonsense Word Building activity. I know you don't want to loose those letters. Peeps, make some holes in each one and secure together with a key ring. Problem solved.
The next word family activity is a word building activity. Simply cut, arrange and paste.
Third up is another cut and paste activity, but this time with pictures. Kiddos say the name for each one and then sort them to show whether they end with -ap or not.
Fourth is yet another cut and paste activity, but of a different kind. Kiddos write the the name of the thing "living" in each house. Some assembly is required, but it's nothing your kiddos can't handle. Purchase the CVC Word Family Flip Up Flip Booklets here.
The last word family activity for today is a reading fluency page. I highlighted all the -ap words, but you can definitely use this reading page to focus on other things – underline sight words, circle punctuation, etc.
If you like ALL the sight words activities presented here, it may be worth your while to check out the Pre-Primer MEGA BUNDLE in my store HERE.
The AP Word family packet is available HERE.
And now, let's move on to the freebies I have created for you! Click on the images below to take you to the download!
That's all from me for this week. I hope the activities I presented here and the samples I have given you have been helpful. If you end up trying any of them in your classroom/homeschool, please let me know in the comments what you thought. I love reading your feedback!
Happy Teaching 🙂