Welcome to Sight Words and Word Families Week 3! I wanted to share some free samples of worksheets, readers and activities that you may find useful in your classroom or home as you teach reading using sight words and phonics.
Week 3 sight words: is, it, like, my
Week 3 word family: am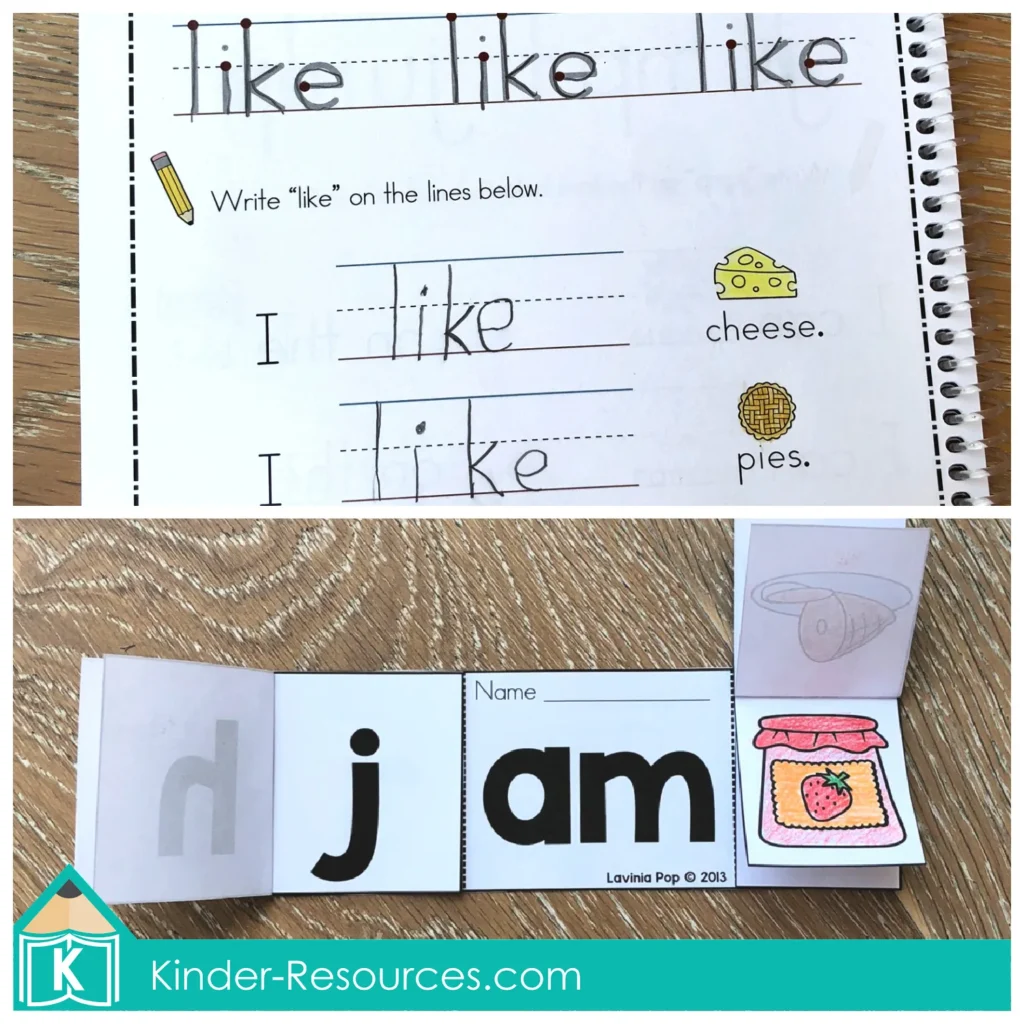 Click the photo to download the sight words and word family word wall. Click here to purchase the complete Pre-Primer Sight Words Word Wall packet and here for the complete Word Family Posters packet.
Let's begin by looking at some sight word beginning and struggling reader booklets! By far, my favorite booklets are the flip books. (Click here to view them in my store, or the picture to download free samples.) Children are not only reading the focus word in context, but if you using the accompanying worksheets, your beginning writers can also practice writing a sentence correctly. These booklets are definitely going to boost your beginning reader's self esteem when they see that they were able to make their own booklet AND also read it!
Another favorite reading activity of mine comes from the Sight Words Fluency Reading Homework packet. I created this packet for beginning readers to develop reading fluency, but it will definitely help your struggling readers too.
The next set of early reader books focuses on comprehension as well as fluency and is included in the Reading Comprehension Sight Word Readers (Pre-Primer) packet.
If you're looking for a simple but effective way to to practice each new sight word as you introduce it, you can't go wrong with the cut and paste word work set.
Another fun way to practice sight word building and writing the focus word is with the Sight Words Build a Word booklets.
For those kiddos who need handwriting practice as well as writing and reading and the sight word in context, you should check out my Sight Words Handwriting Book.
If your kiddos are ready to tackle guided sentence writing, then this cut and paste sentence worksheet might be helpful.
While booklets and worksheets are all necessary tools for teaching early reading skills, I am a big believer in learning through play with hands-on activities. Building bricks are big hit in our home – in fact, all my kids (including my son in the 8th grade) play on daily basis with their Legos. So yep, I went along and created a set of activity task cards that you can use with any building bricks. You can get the complete pre-primer sight word set by clicking here or on the image below.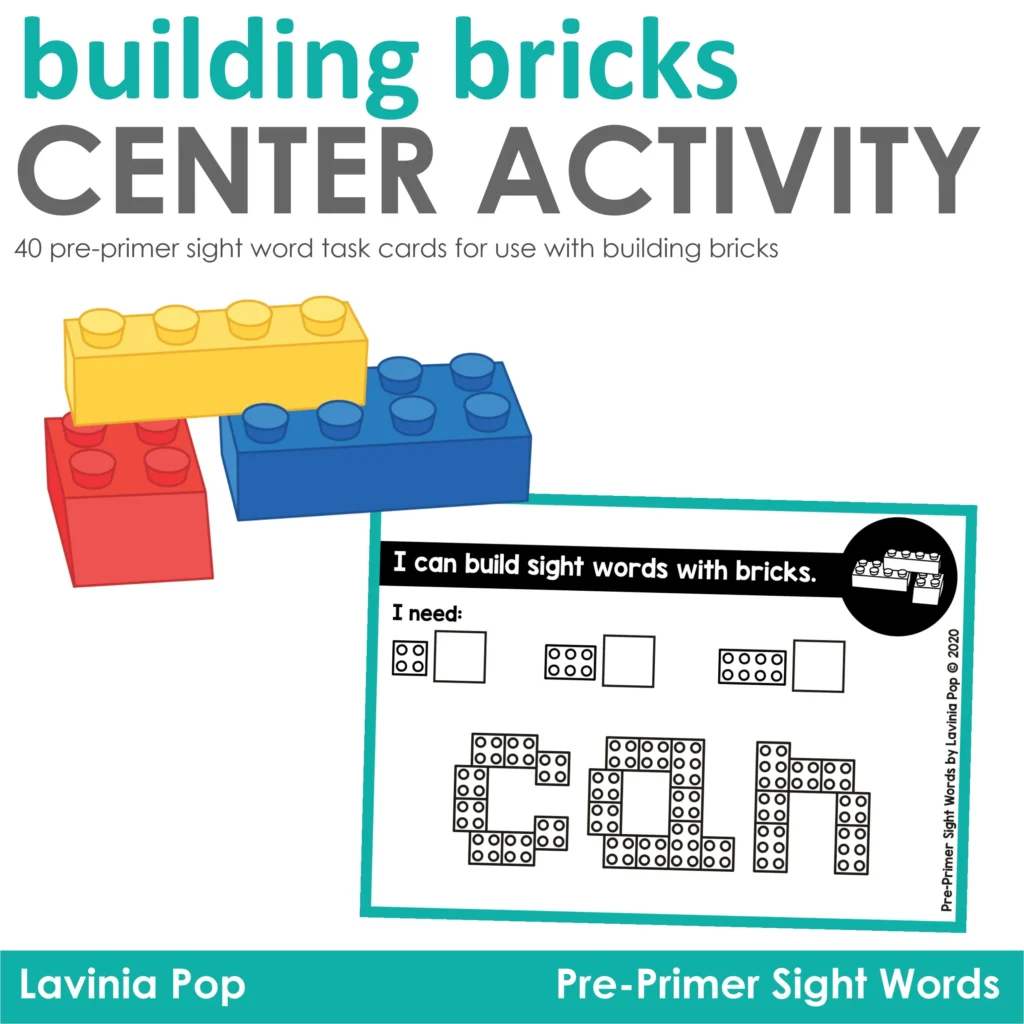 Let's move on to word families! I believe the most effective way to teach any word family is through word building. This is just such a great visual to demonstrate how word families actually work – you simply change one letter to change the word, yet the ending remains the same and sounds them same.
This little flip flap book is also great at reinforcing the same concept.
If you're planning to incorporate several word families into your spelling program, it might be beneficial to create a booklet of all the word families you have studied using the "My Book of Word Families" packet. There are several different worksheets included in this packet for you to choose from, but I have only chosen one to show you.
Now, I think everyone can agree that some words we include when teaching word families are strange. I mean, jam may be a popular word for a spread used on bread in Australia, but not so much in the USA. And kin… what do we mean by that?!? And tap is another word for faucet? Well, my point is that not all the words sit well with us. And that's okay. I personally don't see anything difficult in explaining to our kiddos what kin means, nor that words like jam and tap may have different meanings in other countries. All this to say that it's important, as with sight words, to use word family words in sentences so that children can develop an understanding of word meanings. The worksheet below is a good example of this and it's taken from my "Word Family Fill in the Blanks" packet.
I feel a reader with comprehension questions is a wonderful way to complete your word family study.
Because I made a building brick task card packet for sight words, I decided to make one for this week's word family too. Simply click here or the image below to download the complete -am Word Family packet.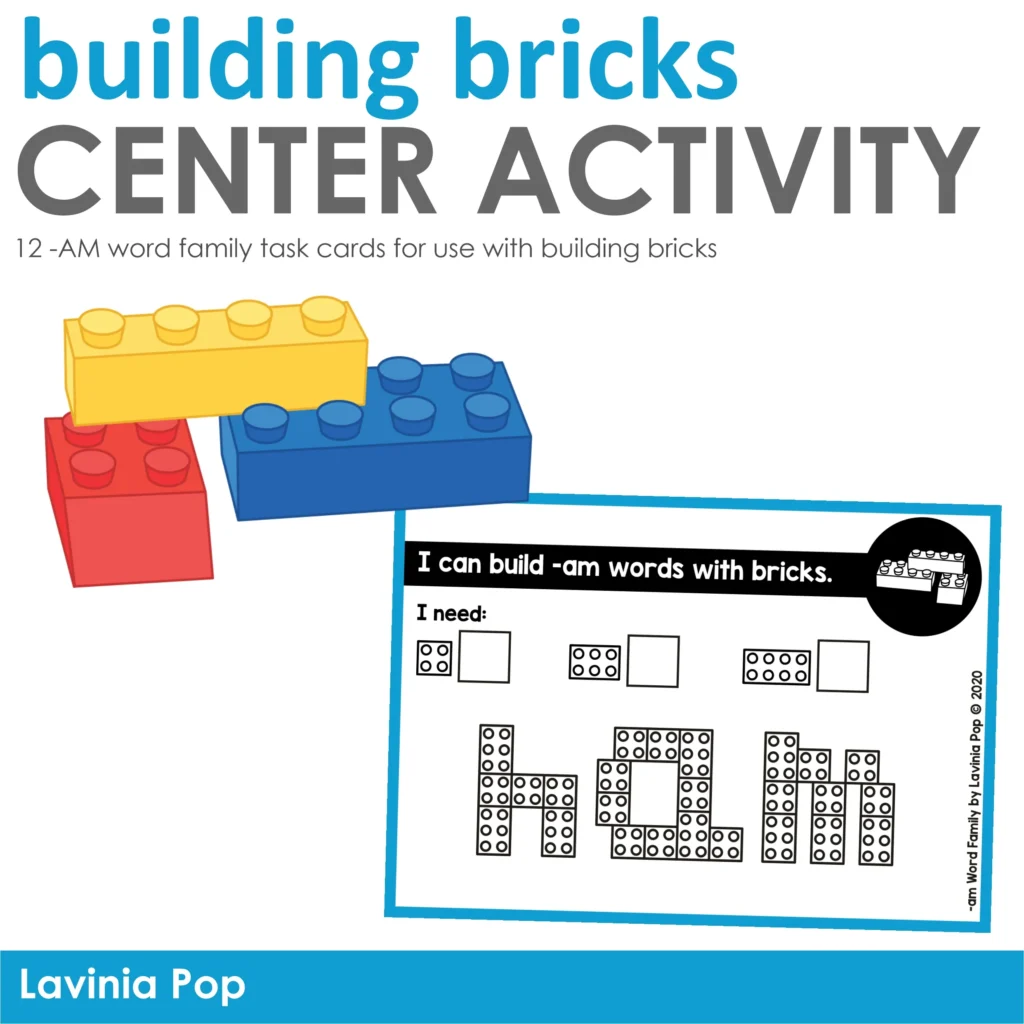 I hope you enjoyed the freebies included in this post. Do stop by again and let me know what you thought of the activities presented here!
If you'd like to view the Pre-Primer Sight Words MEGA BUNDLE in my TpT store, please click the image or here.
To view the –am Word Family packet, please click here.
Happy Teaching 🙂