Preschool Letter T
It's taken a while to do our Preschool Letter T, but here it finally is!
(Throughout this Preschool Letter T post, click the hyperlinked words to take you to the complete unit in my TpT store/original resource link, or click on the pictures to get the freebies!)
We started with our Letter T Play Dough Mats. I wanted to change things up a bit for my little man, so, this week, I filled a large snap-lock bag with some hair gel and gel beads and squished the beads around to form the letters.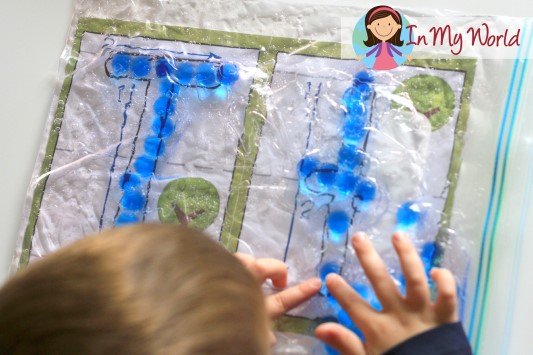 My little man had lots of fun pushing and squishing the beads around to form upper and lower case T. Here is the final result:
He also did a Letter T Letter Find page…
And practiced writing upper case and lower case T with our Write and Wipe Cards:
And here are the writing cards, all completed:
Filip also did a Letter T Sound Hound sorting game… Here are the cards sorted by beginning, middle and ending sound positions:
Then we did the cut and paste activity from our Beginning Sounds Scoops unit.
My little man is telling me that he knows all the pictures…
Easy-peezy.
Of course, Filip also did a Number 12 Play Dough Mat using our new squishy bag and unifix cubes.
We Started Day 2 with a Letter T Maze:
And then used some beads to do this Q-Tip Printable….
Filip also did a Letter T word work page:
He read our beginning T word slider cards… We are still working on getting rid of the "uh" sound at the end of some of the letters. He's catching on, though!
OK. This is a HUGE milestone for us. For the FIRST TIME EVER, he sounded out the words on our CVC Phonoeme Segmentation Cards and wrote down each letter! I was SO excited!
Here he is, unsure of how to write the letter "e" and looking on our Alphabet Posters for guidance.
Voila! A very good "e" if I do say so myself 🙂
And here are all the cards he did! So proud of my little man!
Day 3 started with a beginning T CVC cut and paste page. This time around, we didn't cut out all the letter tiles, but kept them together and matched them to each word.
Then Filip dotted his way through a Number 12 maze.
Next he did a Number 12 worksheet.
He read and ET Word Family book. He liked this booklet so much that he read to his dad several times and then again to me at the end of the day. I love his enthusiasm!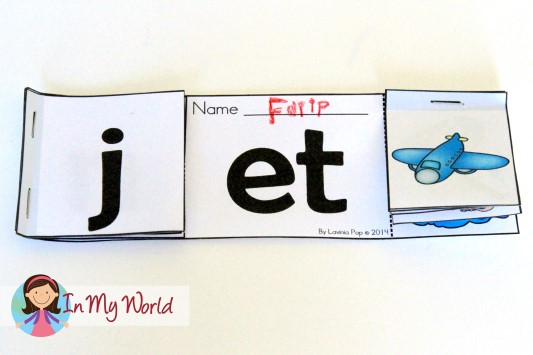 We finished off our Preschool Letter T with a craft:
And there you have it! Preschool Letter T all done!
Click here to download a pdf. with all the FREEBIES from this post.
(Please note: the freebie pack DOES NOT include freebies linked to my online store.)