Allow me to introduce my eldest son, Alex.
He is an athletic boy. He loves to run. He loves to jump. In fact, he loves to run and jump at the same time. ALL. DAY. LONG. Well, he would, if I allowed it!
Alex is also a fidgeter. After many tests and what seemed like forever, our pediatrician told us that he doesn't have ADHD/ADD, as we feared, and that he is a perfectly healthy little boy with a LOT of energy. He will – eventually – learn to control his impulse to move and fidget. In the meantime, we have to be patient and help as best as we know how. If you have a boy like Alex at home or in your class, you will  totally understand that patience really is a virtue!! And you'll also understand how hard it can be to get him to sit still and do his work.
So, what does homework look like with my fidgety 8-year old? Let's begin with this photo: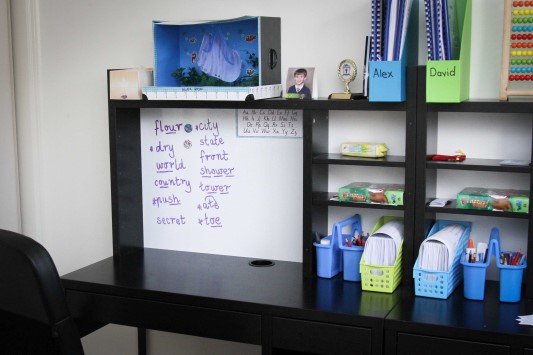 It's what his desk looks like on a good day. I believe organisation is an important key to happiness in the home and EVERYTHING must have a place. Alex does not agree with my philosophy, but he admits that putting things away in "the spot they should go" ensures that will be there when you need them again 🙂
His homework books and other things from school are stored in the pull-out drawer under the writing area of his desk. His corrected worksheets, salt writing tray and other resources go under his desk as shown in the photo below.
Alex and I have come up with a little homework routine that usually goes like this:
1. Phonogram Review
2. Literacy/Grammar
3. Spelling & Word Work
4. Maths
5. Reading
6. Piano
7. Scripture Memorisation (need to work on this one!!)
1. PHONOGRAM REVIEW usually includes these beauties:
While he can recognise them when reading, he has trouble writing them. I have a set of flash cards (available here if you'd like a set) which I get him to identify, then he writes a few of the ones he doesn't seem quite certain about in a salt or sand tray.
We had a bit of a set-back this week because Mr. Alex came home on Monday with ONLY his Literacy homework book. No Maths book. No Spelling words book… 
So, on Monday, he finished his homework in less than 5 minutes. And then he wanted to go and play with his Lego.
I don't like the idea of a child being forced to do homework. I personally believe it will only make him hate it. My passion in life is to instill a LOVE for learning in my children and I go to great lengths to try to achieve it. But what am I to do with a child like Alex who will do anything to postpone doing his homework? Thankfully, I can reason with him on most days. If, however, he's not in the mood to be reasoned with, we simply take a break. Sometimes that means he goes and plays the piano as that helps him to re-focus, or I get him and the other kids together and we play a card game, or  he has a snack… Something – anything that does not involve TV – to take his mind off homework. Then, when I think he looks ready to try again, I remind him that we haven't finished his homework and I give him the option to go back now, or in 10 minutes time. So far, this strategy has worked for us.
So… he wanted to play with Lego after only 5 minutes of homework. But I say to him, "Let's just read one book, and then you can go." "Okay," he grumbles. He's not pleased, but selects a book and accompanying worksheet. These are from Reading A-Z.
A few paragraphs into the book and he's hooked and can't wait to find out more 🙂
Here is a photo of him reading "Bedbugs Bite", totally absorbed in the icky world of  bedbugs…
And then:
"EEww! They are so gross! I'm itchy ALL OVER! What if they are on me!!?" So funny!!
2. LITERACY and GRAMMAR work starts with him parsing the sentences in his homework book. The following days, I give him a bit of extra work, depending on what concepts he needs to work on to be more confident.
This week, we focused on personal pronouns.
(Click on the picture above to obtain the worksheets we used this week.)
Here is a photo of him, working away. He tells me he likes the work I made for him and that I'm very creative; that makes my mummy heart happy 🙂
3. SPELLING and WORD WORK. When he remembers to bring home his spelling list book, I copy the words from his book onto the board on his desk. I love the person who invented this desk; I mean, how genius is that magnetic white board on the back!?!
Each day, he writes his spelling words in his homework book. In the photo below he is using a pencil with texture dots from Faber -Castell which I think are great – especially for tactile kids like Alex. I also found this "moldable" eraser which can be manipulated with as much ease as blu-tac, but still rubs out pencil. Alex likes to hold it and gently presses into it every now and then. Small things like these help to make the writing part of homework a much more enjoyable experience.
After he's done, we do some fun word work activities together. He may not enjoy writing too much, but he definitely loves hands-on activities, so I include something new each week.
This week he did a beading build-a-word activity:
Salt tray writing which we took from lil' Filip:
A spelling addition worksheet (available in my TpT store here):
He asked for it the next day too. He actually really LOVES this worksheet! We each guess which word we think will have the most points and he thinks it's so much FUN to find out which word will win! This worksheet definitely helps to make writing spelling words enjoyable and FUN! In fact, if you look at his work below, you'll see that he wrote the words out TWICE to show who came 1st, 2nd, 3rd and 4th. I love it when he has fun doing homework!
4. MATHS – Alex really likes Maths. In fact, if he is doing Literacy and finds something stressful, he asks to do Maths first and then we get back to the Literacy work afterwards. Alex completes his Maths work from school and then for the following days, as with Literacy, I make up some worksheets or games for him if there is something he needs to work on.
This week, I noticed he was making careless mistakes by not paying attention to the signs, so I made these for him:
(Please click on the picture if you'd like a copy.)
He used dot paints for the worksheet because work is more fun with them 🙂
5. READING: We usually retreat to a quite place in the house and I listen to him read. I love it when he gets into a book he's reading and reads expressively. Here he is posing with a reader (from school this time):
7. PIANO. I totally forgot to take a photo of him playing the piano, but this too is part of our after school routine. He practices on his own, though he does ask me to come and listen to him play every now and then.
6. SCRIPTURE MEMORISATION: At the moment, this is a big fail in our homework routine. I have tried getting all the kids together as they are all required to learn the same verse each month. This didn't work well, so I will need to come up with something else.
Whew! Looking back up through this post, it looks like a lot of work. However, we really only spend about 20-30 minutes 4 days a week doing homework.
Alex can be a challenge to work with, but the effort is worth it, especially when I see that he's engaged and enjoying the work. Yes, he still needs to be reminded about doing his homework, and some days are trickier than others, but I'm sure one day, when he's older and a lot wiser, he'll say: "Thanks for helping me, even though I didn't know I needed it!" Until then, I'll remind myself to be patient, to breathe, count to ten, take a break and enjoy who Alex is at this age 🙂