Guys, today's post is going to be long. I mean, seriously, you may as well make yourself comfortable and grab a cup of coffee or tea. No, not really. It's only long because there are a ton of pictures but pictures are worth a thousand words so, in reality, this could have been a much longer post! You're welcome 😉
Ugh. Why am I rambling?! Let's just get into it, shall we?
Today, I want to share with you the contents of my CH digraph packet. Not just in photos to show you how to set things up and use them, but also as an exclusive and totally free download! So, if you want to skip all the photos and just get to the free CH digraph packet so that you can download it and try it out, scroll all the way to the bottom and click the CH digraph cover and it's all yours.
First up, is a CH digraph poster. Just print, laminate and hang up on your wall.
Next is another poster but this time with words that your kiddos can read! (Am I the only one who, when reading through the list of words, is tempted to make up a story using the words in sequence!? Let me know if you're the same!!)
Next is a set of word wall cards with a header. The header can double up as a tracing card. The cards can be cut into strips as I have done or you can cut each card individually and hand-pick the ones you wish to use. Some cards have images and some don't.
Now, these can also be used as cards for a "Write the Room" activity. You would need to cut out all the cards and display them around the room. Provide your kiddos with a recording page, clipboard and pencil so that they can write down all the words that they find. Voila. A simple yet fun way to get your kiddos writing!
Next are the Word Slider cards. I created a cute envelope for you to store the cards inside but if you don't want to use it, you can always just use a regular envelope. But, in my opinion, cute envelopes make learning more fun.
Children slowly pull out a card and say the sound of each letter or letter group as it appears, then they blend all those sounds together to read a word. A picture confirms if they have read the word correctly or not.
Afterwards, kiddos complete the recording sheets.
Another fun way to practice reading and promote fluency is with Reading Cards. Children pull the card up and read the whole word.
There are 4 cards included and they vary in degree of difficulty. As you can see from the photo below, Set 1 uses single letter sounds alongside the focus CH digraph, Set 2 moves on to some letter blends and Sets 3 and 4 include other digraphs and r-controlled vowels.
I have also included some timed Reading Cards. Kiddos time each other to see how long it took them to read through each card.
Do you play "I Have, Who Has…?" in your classroom? If you do, you'll be pleased to know that I have included it in this packet! If you don't know how this game is played, I would like to say that it is a game best played with the same or half the number of children as there are cards. That's ideal. However, you can hand out multiple cards to children also; they will just need to be super focused on all the words on their cards and it may take longer to play in this case. So, the cards are divided between the children and the game begins with the first child asking, "I have the first card. Who has (reads word at the bottom of the card)?" The child with the matching word says "I have (same word)" and then asks, "Who has (new word at the bottom of their card)?" Game play continues until all the cards have been used up. There really isn't a winner. It's just another way to practice reading words 🙂
No reading packet is complete without a playdough mat. Playdough is fun. It makes ANY learning you are doing fun. Kiddos are also working on strengthening their little finger muscles while they learn how to form the focus letter group sound.
Of course, if you hate playdough for the single most obvious reason that it goes everywhere and gets stuck into everything, you can just let your kiddos trace the digraph with an erasable marker. There's not as much magic in that, but that's OK. I guess.
I have included small write and wipe cards that children can use to practice writing the digraph.
If you don't want to laminate them, you can just put them inside a plastic pocket for kiddos to trace over.
I have also included a word building mat with letter tiles.
If your kiddos are not quite ready to jump into independently sounding out words and matching each sound with a letter or letter group, I have included a version of the mat that requires children to just cover each square with the marching letters. Perhaps they can begin with the "easier" mat and then progress on to the "harder" mat later in the year.
Up until now, the activities have been pretty basic, so I decided to step it up a bit and get the kids not only tracing letters, but writing the missing sounds. You can laminate these cards and use them in a set OR, if your kiddos are ready for a challenge, mix them up with cards from other sets.
Here's what they look like on a ring, my favorite way to use them.
One of my all-time favorite phonics activity is the Sound Hound. It really gets kids to listen to the focus sound and determine its position in the word – beginning, middle or end. LOVE it!
Another fun activity is the gumball word and picture matching activity. Kiddos can do this on their own or in a group with up to four children. The gumballs are placed in a container and children take turns taking out one a time: they read the word on it and place it on the corresponding picture on their card. If they can't make a match, the gumball is placed back in a container. Game play continues until one child has covered all the pictures on their mat. Children can then complete the recording page included.
Also, if you have these round wooden disks available, use a hot glue gun to glue the gumballs onto them as it's easier for your kids to grab. Or, you can glue them onto any plastic lid.
I know how much some of you guys love flip books, so I have included one in this packet with two recording pages.
Let's move on to some worksheets now, shall we?
The first one is a basic handwriting tracing page.
If you want to reuse it, simply pop it inside a plastic pocket.
Next is a word work worksheet. Children write the missing letters in the empty spaces and then copy out the sentence at the bottom of the page.
There is also a word shape worksheet that requires children to fill in the word shapes using the word bank and pictures as clues. (This is a black and white worksheet; I just got lazy coloring and printed a color version which is not available in the packet.)
There is also a picture sort worksheet where children paste the pictures in the correct section to show whether or not they contain the focus sound.
There is also a Color It! worksheet where children simply color the pictures that contain the focus sound.
There are two word-picture match worksheets; choose the one that is best suited for your kiddos. (Once again, I cheated and printed a color version of these worksheets; please note that this is black and white.)
… a cut and paste word building activity (images are black and white; I used a colored clip art again)….
… a picture scramble puzzle-type worksheet…
… one and two word syllable sorting worksheet…
… a word search…
… a worksheet that focuses on putting words in alphabetical order …
… a fill in the blanks worksheet…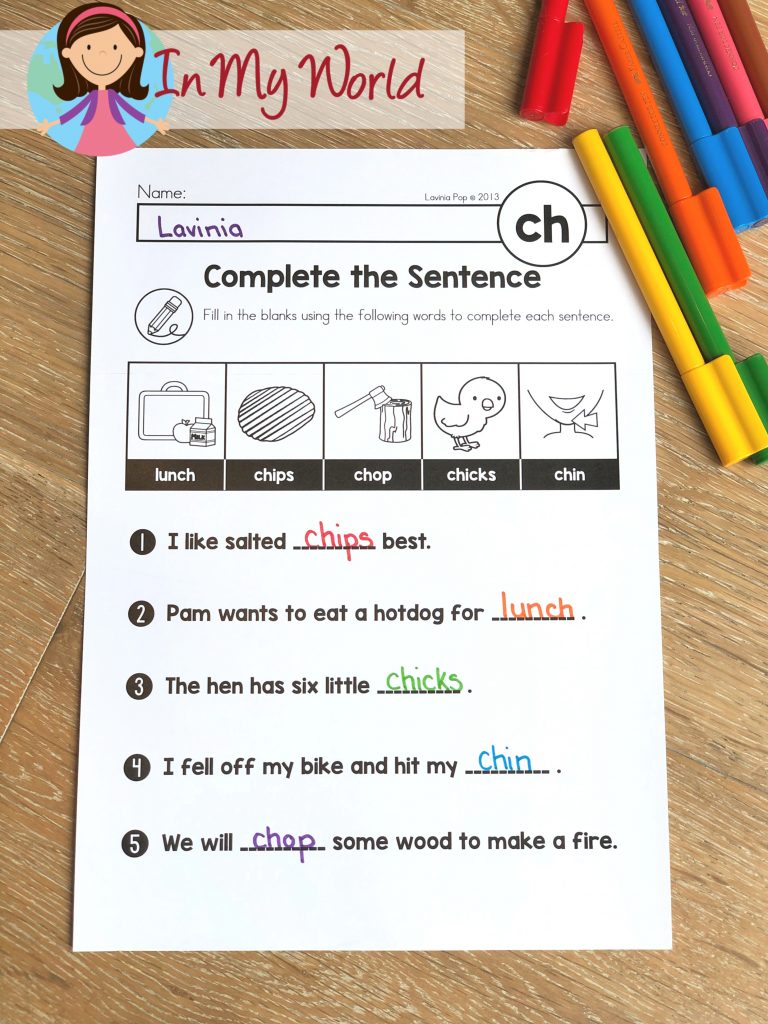 … a reading fluency page…
… a reading comprehension page…
… a vocabulary booklet…
This booklet is quite versatile and you can ask your kiddos to write sentences like I did or you can print writing lines on the back of each page so that your kiddos now have more space to write an actual paragraph or story. Duplex printing instructions are included in the packet, so I won't write them here.
I have also included a build a word reader.
And I finished the packet off with a crown. Coz they are always super fun.
So, what do you have to do to get this free packet? Not much, actually. You can click HERE or on the image below and it's all yours 🙂
If you enjoyed this packet, you may also like to download the FREE WH packet from TpT by clicking HERE or the image below.
If you like both packets and need more, you can check out the Mega Bundle in my TpT store by clicking HERE or the image below.
Thanks for stopping by! I hope these photos have given you a good idea of all that is included in each of my Phonics packets.
Until next time,
Happy Teaching 🙂