As in previous sessions, I brought out our sensory bottles and we talked about what God had created on each day.
I brought out the Day 6 sensory bottle and I asked my kiddos to guess what God had created on this particular day. No, not the grass, nor the flowers… yes! That's right! Puppies and cats and giraffes and all the other animals!
We checked our Creation story book to make sure that we had gotten that right. Sure enough, we were right; what a clever bunch we are! 😉
We spoke about big and small animals and then we tried to make the sounds our favourite animals made.
And then we played a sorting game. We sorted the animals from the insects. Am I right to assume that insects were created on this day? (Please let me know if I'm wrong so that I can change it for next year!) My munchkins love our sorting games and have come to expect them for each lesson!
Then I held up some pre-cut animals masks: monkeys and lions and bears and puppies! Oh my! They all jumped and down with excitement! I got the free printable masks from First Pallette.
Here is my lil' Filip… yes, he's in my Sunday School class 🙂
My dears are all at different levels with the colouring and fine motor development. That means that some will finish quickly, while others will need help to complete their colouring. I usually allow the early finishers the possibility to play with the Creation sensory bottles or to start on their Take Home page. Today, I decided to make this:
They totally LOVED the sensory animal tub! Of course, my dears that were still colouring wanted to see what all the fuss was about… I'm so glad I decided to take a photo BEFORE and not DURING or AFTER as you would not have been able to tell what it was meant to be!
Of course, I handed out some Take Home pages to my dears too. Before we finish up for the morning, I always explain what is expected of them and they feel so grown up doing their Sunday School "homework".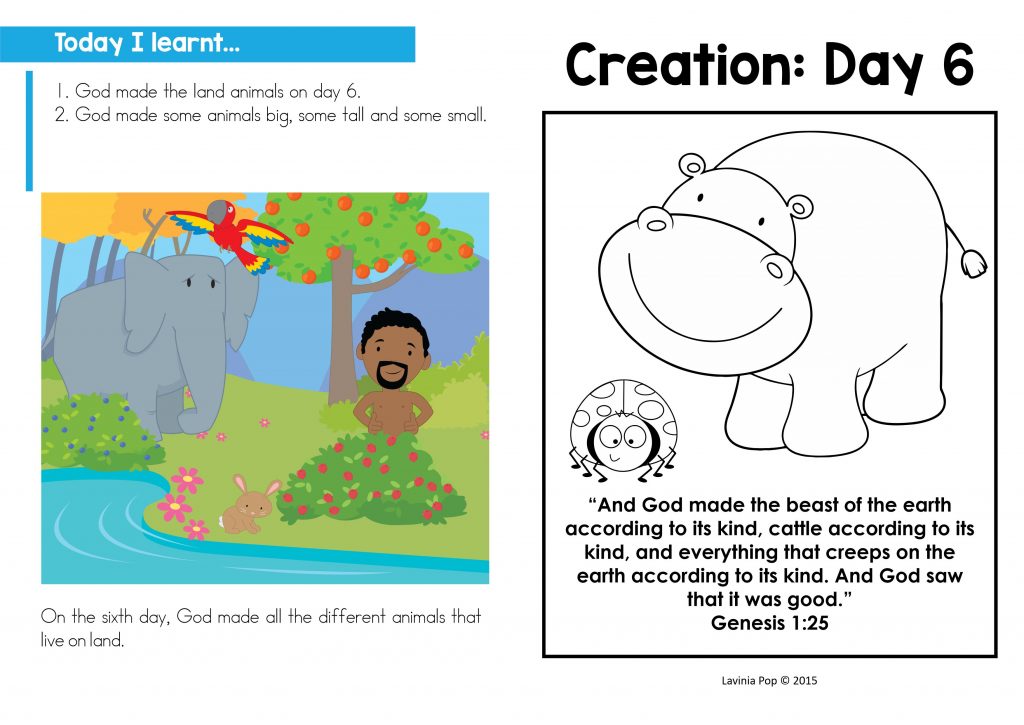 Please click here to get the printables in English.
Please click here to get the printables in Romanian.
Thank you so much for stopping by to see what we did for Day 6 of Creation!
I will be back with the creation of Adam and God's day of rest in two weeks! See you then 🙂