Preschool Letter X
(Throughout this Preschool Letter X post, click the hyperlinked text to take you to the complete unit in my TpT store/original resource link, or click the pictures to get the freebies!)
Letter X… Is it OK if I don't like this letter? I mean, besides "x-ray", are there any words that begin with the "x" sound? It is an impossible letter to teach, unless you teach it as an ending sound, or teach its 2 sounds from the beginning… which we are not.
Anywho, here's what we did on our single day of Preschool Letter X!
We started with a Letter Find page.
And moved on to our CVC word work page. (Just in case you're wondering, Filip DID ask why all the Xs are at the end of the words!)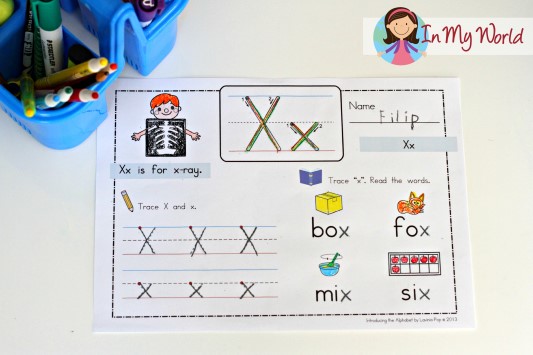 We also did a CVC word building activity. In the past, I usually kept the words intact and Filip just glued them on whole. This time, I asked my little man to cut out each letter to see whether he could sequence the letters correctly as he really struggles with this when writing. But he did really well!
We finished the day off with a letter craft: X for Xylophone and x for x-ray.
And there you have it: Letter X all in one day!
…
I'm liking the feeling of short posts! 😉
Click here to download a pdf. with all the FREEBIES from this post.